Butterflies are not only fascinating insects that capture our hearts and minds, but they're also keystone creatures that play a critical role in our ecosystems. They serve as pollinators that sustain natural habitats needed by birds, other wildlife, and people.
Come discover the amazing world of butterflies at Sharon Audubon Center. Explore our Butterfly Flight House, Caterpillar Rearing Lab, Native Plant Meadow, and Pollinator Garden, and learn what you can do to help butterflies thrive in your own backyard.
Butterfly Flight House and Caterpillar Rearing Lab Open: June through September - by scheduled weekend tours (tour schedule coming soon). Accessible during the week by appointment only.
Pollinator Garden and Native Plant Meadow Hours: Open daily from sunrise to sunset.
For more information or to schedule a group tour, contact Sharon Audubon Center at sharonauduboncenter@audubon.org or 860-364-0520.

Why Butterflies?
In spring 2019, thanks to funding from several grants, Sharon Audubon Center launched the butterfly project with the goal of sharing the world of butterflies and their role in our ecosystems with the greater community. As pollinators of our native plants and part of the natural food web, butterflies help to sustain and grow habitats, and support birds, other insects, wildlife, and people.
As habitat is lost or degraded through fragmentation, development, and pesticide application, it's increasingly important that we all take personal action to improve bird and wildlife habitat. Even "natural" areas are subject to degradation as introduced species decimate or outcompete plants that native birds and insects rely upon. Through Audubon's Bird-Friendly Communities and Plants for Birds programs, and initiatives like the butterfly project, Sharon Audubon Center is helping to teach others how to incorporate native plants and adopt pesticide-free practices in landscaped areas and backyards to restore declining bird and pollinator populations and maintain species diversity.
In our outreach, we emphasize that "plants for birds" must mean native plants for insects too, since nearly all songbird species rely on large quantities of insects (including caterpillars) to raise their young successfully. With their universal appeal, native butterflies offer an excellent way to introduce people to the value of insects in the food web that supports birds.
More About Our Butterfly Project
With the creation of the Butterfly Flight House and native plant areas, visitors to Sharon Audubon Center can see first-hand what they can do at their residence to attract and support both insects (including butterflies) and birds. As we expand our outdoor classroom, we are working to develop a winding path with educational signs that will show what plants attract various native insects and birds, examples of priority bird species that may be attracted to the plants, and how to obtain the appropriate seeds or plants.
The Butterfly Flight House (14 x 36 feet) is a semi-permanent structure consisting of a gothic-style hoop framework, covered in the rearing season with a flexible mesh fabric/shade cloth. During the butterfly season, visitors can enter the structure during tours, and view the butterflies from outside at other times. The Butterfly Flight House features a free-flying population of up to 5 species of native butterflies, primarily Monarchs. Perennial host and nectar plants for the butterflies to feed and lay eggs on are planted within the structure, and to show visitors appropriate butterfly/caterpillar plants.
The Caterpillar Rearing Lab (8 x 24 feet) is an auxiliary structure where caterpillars are transferred to milkweed plants and "caterpillar kits" until they are ready to pupate. During peak times, one can find hundreds of chrysalises safely hanging in mesh habitats, aka "chrysalis nurseries." Once the butterflies have eclosed (emerged) from their chrysalises, they are carefully tested for OE spores, a parasite that can be detrimental to wild Monarch populations. Once cleared of OE, the butterflies are released into the flight house to begin the life cycle over again.
Toward migration time, late in the season, Monarchs testing OE negative are tagged with official MonarchWatch tags and released into the wild to begin their journey to Mexico. If found along the migration route, the tagged Monarchs can be traced back to our center. The tags help researchers better understand Monarch migration and survival rates.
Although Monarchs are the primary species for the Sharon Audubon Center's butterfly project, other species permitted in the flight house include Painted Ladies, Tiger Swallowtail, Eastern Black Swallowtail, and Mourning Cloak.
In year one, 2019, our project reared 390 butterflies—209 females and 177 males.
A Community-wide Effort
Sharon Audubon Center received two grants in 2019 to help jump-start our butterfly project. One grant funded the purchase and installation of the Butterfly Flight House and Caterpillar Rearing Lab as well as the native plants for the garden and meadow plantings. The other grant allowed us to partner with Torrington High School (THS) and a group of local home school students to work on the project.
Students had the opportunity to learn about the importance of planting native to benefit caterpillars and insects which in turn help bird populations. They participated in several volunteer workdays at the center, establishing the pathway in the flight house, planting all the perennials, and creating caterpillar kits and educational activities for school groups.
The THS students were also involved in educating Torrington residents about planting natives. With Audubon's help, they hosted a spring native plant sale at THS. Proceeds from the sale went to the THS Science Club so they can continue to fund their participation in the butterfly project for years to come and also install a native plant garden at the school for classes to use in outdoor educational programming.
The home school students, ranging in age from 9-17 years, and under the direction of Izzy Fitch of Battle Hill Forge in Millerton, New York, created a beautiful, large butterfly sculpture bench for the Native Plant Garden at the center. They researched the bench design, measured, cut, and fabricated the entire bench, all while learning the trade of welding and the importance of native plants for insects and birds.
The entire Sharon Audubon Center Butterfly project has been a wonderful community and educational effort, providing a great interactive opportunity for students to work with caterpillars and butterflies first hand, and learn valuable they are to our environment as well as how they depend on the native plants.
How you can help, right now
Learn & Explore
Where birds thrive, people prosper. Help us transform local communities into places where birds flourish. Learn what you can do to nurture wildlife, nature, and conservation in Connecticut.
Support Our Work
Through land stewardship, science, education, and advocacy, we work to preserve habitat and protect bird species that are of state, national, and global concern. Your gift makes a difference.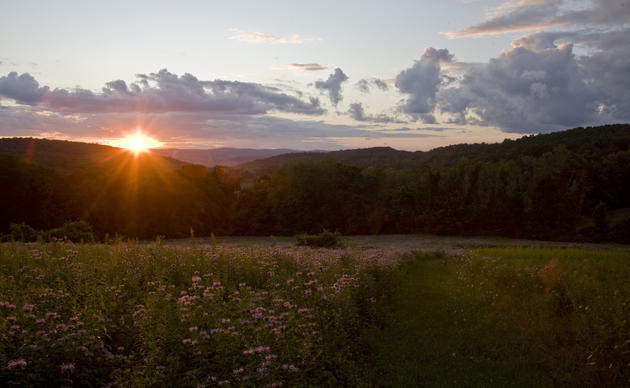 Join Our Family
When you become a member of Sharon Audubon Center, you are protecting critical woodlands and a natural heritage for generations to come. Help us do great things.